Join the CETL Book Club!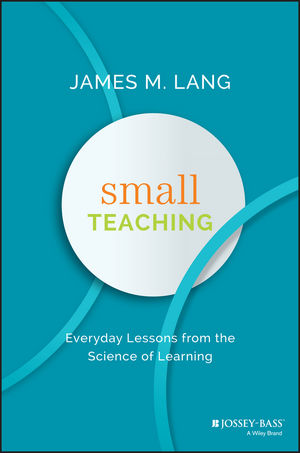 In this Spring's Book Club, we will read Dr. James Lang's Small Teaching: Everyday Lessons from the Science of Learning. The book both introduces fundamental concepts from cognitive theory and, then, explains how you can implement small changes in the classroom that play off these theories to increase students' learning. The result is small changes lead to major transformations in learning for students. To give you a glimpse into what the book club will offer, check out James Lang's essay for the Chronicle of Higher Education on making the most out of the last 5 minutes of class. He suggests that we should connect what the students are learning in the class to the world outside of it in the last five minutes: https://www.chronicle.com/article/Small-Changes-in-Teaching-The/235583?cid=cp44.
Join us for the CETL Book Club to learn more about how "small changes to our teaching — such as the way we approach the closing minutes of class — can make a big difference."
The CETL Book Club will meet Tuesdays from 3 - 4:00 in the living room of the Pollock House. The dates of the meetings are: Feb. 27, Mar. 27, Apr. 10 and May 1.



Please watch for details on the Fall 2018 Book Club.